Events in December (dates may change every year)
---
Villaggio di Babbo Natale – Santa's House
Ice skating, concerts, performances for young and old,
street food, games, rides, trampolines, market fair trade… from 8th December to 6th January in Largo Annigoni (S.Ambrogio Area).
---
Mercatini Natalizi – Traditional Christmas Markets (Weihnachtsmarkt)
Market fair trade –  from 2nd December to 20th December from 10.00 alle 8.00pm in Piazza Santa Croce.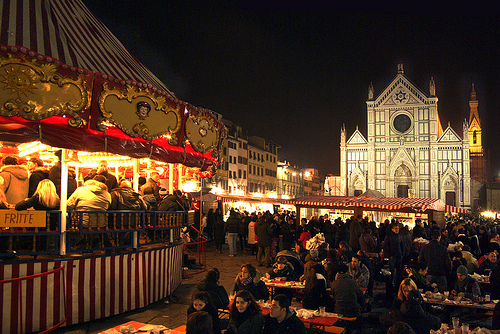 ---
50 Giorni di Cinema Internazionale a Firenze
International Film Fest: 29th October- 13th December
29 Ottobre- 1 Novembre:  FRANCE ODEON
2-4 Novembre:  IMMAGINI E SUONI DEL MONDO
5-10 Novembre: FESTIVAL INTERNAZIONALE DI CINEMA E DONNE
11-17 Novembre: FLORENCE QUEER FESTIVAL
18-22 Novembre: LO SCHERMO DELL'ARTE FILM FESTIVAL
23-26 Novembre: CINEMA RITROVATO ospite alla 50 Giorni
27 Novembre- 4 Dicembre: FESTIVAL DEI POPOLI
5-10 Dicembre: RIVER TO RIVER FLORENCE INDIAN FILM FESTIVAL
11-13 Dicembre: UNA FINESTRA SUL NORD
13 Dicembre: PREMIO N.I.C.E. CITTA' DI FIRENZE
http://www.50giornidicinema.com/
---
Firenze Winterpark
Florence Winterpark
A great park for winter sports. Ice skating, snow tubing (easy and difficult levels), Skiing…
Along the Arno. From October 28 until March 6, 2016 at garden of Obihall Florence (South Florence).
www.firenzewinterpark.it
www.facebook.com/toscanawinterpark
---
Natale – Christmas
25th December
---
New Year's Eve – Ultimo dell'anno
31st December – Concerts in the main squares of Florence.
---